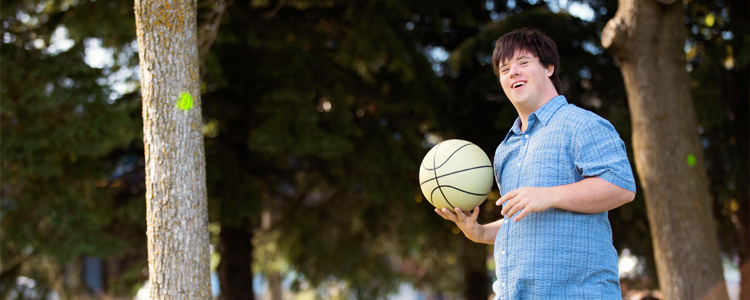 Why Give
A home of their own in a supportive community and the independence to make decisions on where and how they want to live are things people without disabilities often take for granted.
People with disabilities are no different in their desire to achieve their own goals. They deserve the right to be treated with dignity and respect and InVision Foundation helps fund programs so they can fulfill their dreams of lives well lived.
When you support InVision Foundation, you help people with disabilities forge their own paths.
Explore Our Funds
InVision Foundation raises money to support the development of person-driven services for people with disabilities in their pursuit of meaningful lives.
Thank you for learning more about our funds. You can help support programs for disabilities as well as their dedicated Direct Support Professionals (DSPs).
For more information, contact the InVision Foundation team at 724-933-5100 or via email at foundation@invisionhs.org.
See Beyond Fund
This fund enables the people we serve to live in their own homes, participate in their communities, receive the mental health care they need, experience opportunities for personal growth and fulfillment, and find rewarding careers.

See Beyond Independent Living Fund

Your support enables the people we serve in our Residential program to live in their own homes, receive necessary maintenance, safety and security, and capital home improvements.

See Beyond Behavioral Health Fund

Your gift supports access to mental and behavioral health care services in the homes and communities of people with a dual diagnosis of intellectual or developmental disability with a behavioral or mental health disorder.

See Beyond Community Supports Fund

Your gift supports the people in our Community Supports program who receive customized services for daily activities based on their individual needs, like paying bills, household maintenance, managing medications along with self-care skills, as well as community-oriented and interest-based activities.

See Beyond Employment Supports Fund

Supporting this fund helps people we support to not only find a job, but also to support them on their path to achieving a rewarding career while also making a positive impact on their communities. The joy and satisfaction that comes from earning a paycheck cannot be overstated and feeling included and valued are their own rewards.

See Beyond Meaningful Lives Fund

Your gift enables the people we support to participate in events and activities that everyone should have the opportunity to enjoy like hobbies, discovering arts and entertainment, or going on vacation. This fund provides the opportunity for personal enrichment and pursuing growth which are vital to the health and well-being of all people, including people with intellectual and other disabilities.
DSP Advancement Fund
DSPs are skilled professionals who provide essential support for people with disabilities 24 hours a day, 365 days a year. These supports range from monitoring and administering medication, identifying and managing behaviors, and assisting with basic needs like shopping, transportation, cooking, cleaning, and personal hygiene. DSPs are guidance counselors, social workers, activity coordinators, and constant companions to individuals whose lives depend on their support.
InVision recognizes that while the role of a DSP is often rewarding, it is not without its challenges. DSPs struggle to earn the respect and compensation they deserve as highly skilled professionals. Based on rates set by the Commonwealth of Pennsylvania's Office of Developmental Programs (ODP), the average hourly wage for a DSP is just over $13.00 per hour.
The DSP Advancement Fund expands opportunities for DSPs to ensure their ability to deliver the highest quality support possible. Investing in them is investing in a group who choose careers of service and sacrifice. It helps them see a path forward by enhancing their skills and education and providing opportunities for advancement.
Global Partnerships Fund
Ensures the most vulnerable children and young adults in South Africa receive the critical therapies, life skills, and emotional support they deserve. This program also support life-saving training for caregivers as well as job preparation and entrepreneurial skill development. Through partnerships and collaboration, raising awareness, and identifying needs, this fund is strengthening intellectual disability services for South Africa.
Greatest Need Fund
These gifts are directed toward specific areas where your support can have an immediate impact.
An outright gift. By making a cash gift by check, credit card, or money order today, you enable us to meet the most urgent needs of the people we support. You will also receive a federal income tax charitable deduction when you itemize.
A payable on death (POD) account. A POD bank account or certificate of deposit names one or more persons or charities as the beneficiary of all funds once you, the account owner, pass away. The beneficiary you name has no rights to the funds until after your lifetime. Until that time, you remain in control and are free to use the money in the account, change the beneficiary, or close the account.
We'd love to talk with you, so if you have questions, please contact InVision Foundation by phone at 724-933-5100 or via email at foundation@invisionhs.org.