It is a national certification program for Direct Support Professionals (DSPs) who provide support to people experiencing disabilities. We are proudly partnered with NADSP offering our DSPs the learning opportunities and benefits of NADSP's Certification program. This program is known for its powerful benefits to DSPs, the people they support, and employers.
DSPs benefit from learning and applying best practices and evidence-based skills and knowledge in the workplace.
People receiving support from certified DSPs benefit from partnering with highly trained professionals who are committed to supporting them ethically and effectively through the skills they have mastered.
Organizations who employ credentialed DSPs can provide stronger assurances of quality to people supported, allowing for funders to proudly market their employment of nationally certified staff.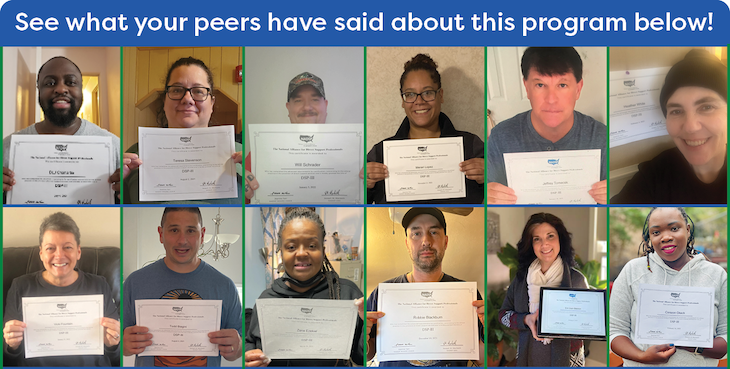 Organizational Goals for 2023
Here at InVision, we strive to be a top-tier service provider, utilizing NADSP's Certification program to continue to provide high quality support services to those who have the greatest needs. Eventually, we will be requiring certification for DSPs, but while this remains a voluntary program we encourage you to invest in your professional development and be a leader among your peers. To support that, we have established a goal to have a total of 112 certified DSPs by the end of 2023. That would be an additional 50 certified DSPs from where we were when CEO Kim Love announced this goal in June 2023. Help us reach our organizational goal while actively working toward your own professional goals!


Three Levels of Certification
DSP-I: 50 training hours
DSP-II: 100 training hours
DSP-III: 150 training hours
Your training hours are compounded, so 50 hours are needed for each level. For each level completed you'll receive an extra $1/hour increase to your current wage. So, after completing all three levels, you would be making an extra $3/hour!

Admission Requirements
Employed with InVision for over six months
Not currently on corrective action
Training and supporting documentation are up to date
Supervisor supports your interest with a recommendation letter