Here at InVision, we are grateful for team members of all positions, as it takes #allofus to maintain the highest standard of care. From the corporate office to the homes of those we support, each role is integral to our success as an organization.
We strive to provide skill development and learning opportunities for our team members—including our Direct Support Professionals (DSPs)—as we understand the level of competency required in that role. Our partnership with The National Alliance for Direct Support Professionals (NADSP) offers DSPs continued learning and a chance to strengthen skillsets through its certification program.
NADSP's Certification Program
is designed to not only supply educational resources for DSPs, but to also bring national recognition to the importance of their contributions in the workplace.
Program Overview & Benefits
Through this certification, DSPs are given the opportunity to step further into their profession through a three-tiered program. Credentials earned by completing each tier include the levels of DSP-I, DSP-II, and DSP-III. Beyond extensive knowledge of best practices and professional development, completion of this certification offers InVision's DSPs the opportunity to earn an extra pay—one additional dollar per hour for each level achieved up to DSP-III which earns a total of three additional dollars per hour. DSPs can take the program's courses when convenient for them, at their own pace, and can submit any time spent on the courses as overtime hours.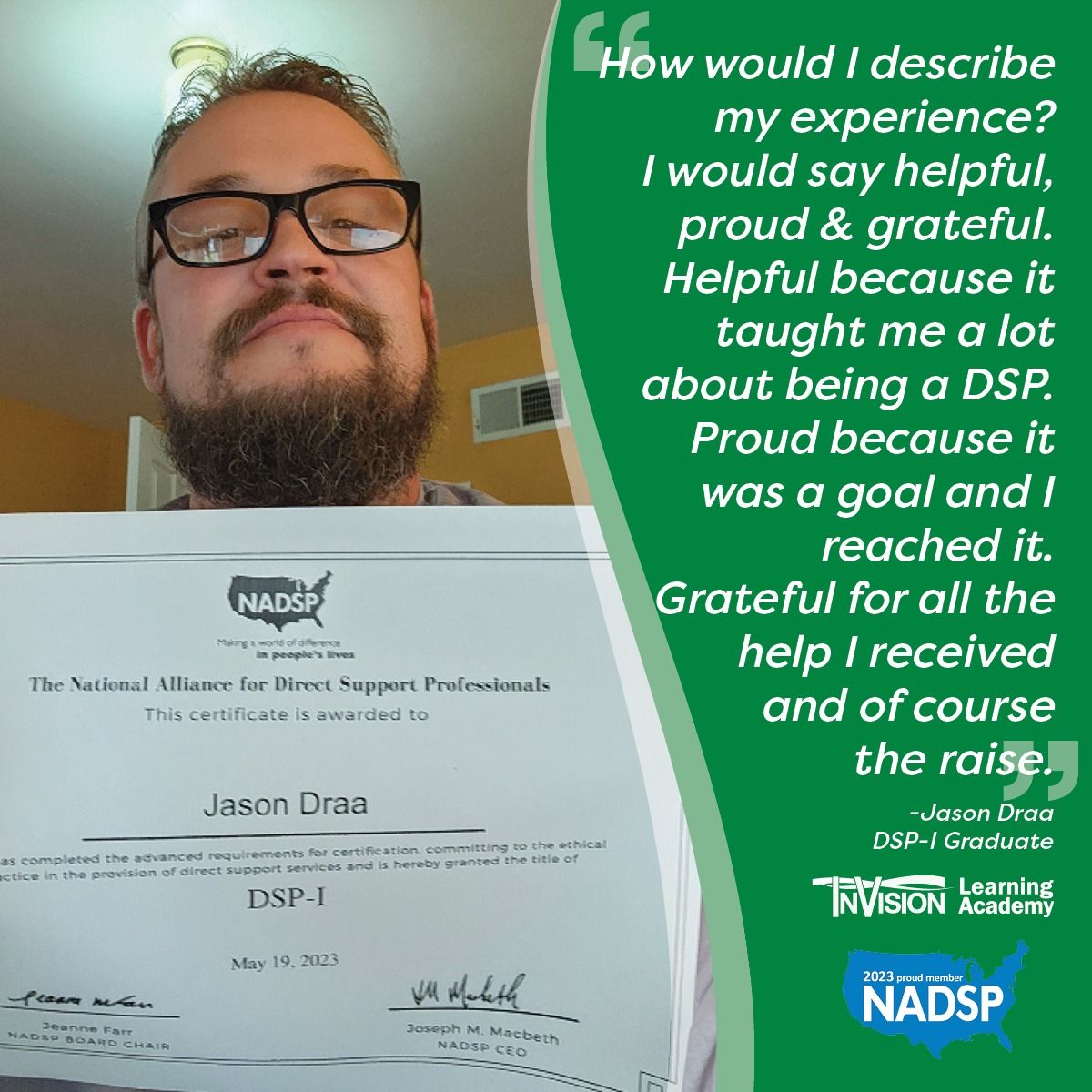 Jason Draa, a recent level one graduate, describes his experience with NADSP as being rewarding and creating a sense of pride. "Helpful because it taught me a lot about being a DSP. Proud because it was a goal and I reached it. Grateful for all the help I received and of course, the raise," he said.
Level two graduate, Julie Lasher, shared her experience thus far stating that the courses are very educational and serve as a refresher for some of the comprehensive trainings she has completed in the past.
Julie also mentioned burnout and its prevalence among DSPs, stating that the program has given her a positive outlook for the work she does at InVision. "These trainings have reignited my feeling of wanting to go above and beyond my best when possible. I feel like I am more knowledgeable in serving the person I support, and I appreciate working for a company that wants us to be our best," Julie said.
Upon completing level two, Scott Baptiste shared his experience with us, saying, "This certification gives me a feeling of self-worth, and more importantly, the skills and knowledge needed to better understand and work with the people we serve."
Since then, Scott has moved on to complete his level three certification. Each level allows for better support of the people we serve, and InVision is proud of its DSPs for taking the initiative to work toward their career goals through the program.
Join the conversation surrounding NADSP Certification by visiting our
YouTube channel
, where more of your peers and team leaders like
Craig Harrington
share their experiences with NADSP.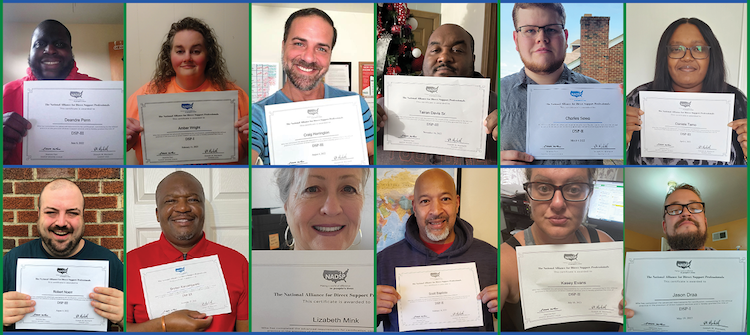 InVision's Goal
InVision is dedicated to maintaining its top-tier services and continued growth. It is our goal as an organization to have a total of 112 certified DSPs by the end of 2023. That would be an additional 50 certified DSPs from where we were when CEO Kim Love announced this goal in June 2023. Maintaining NADSP certified graduates has the potential to offer organizational benefits, including opportunities to receive higher fee-for-service rates—funding that can be invested back into the company. At some point, InVision will be requiring certification for its DSPs, however, the program is still voluntary. We highly encourage those eligible to participate and invest in their careers here at InVision.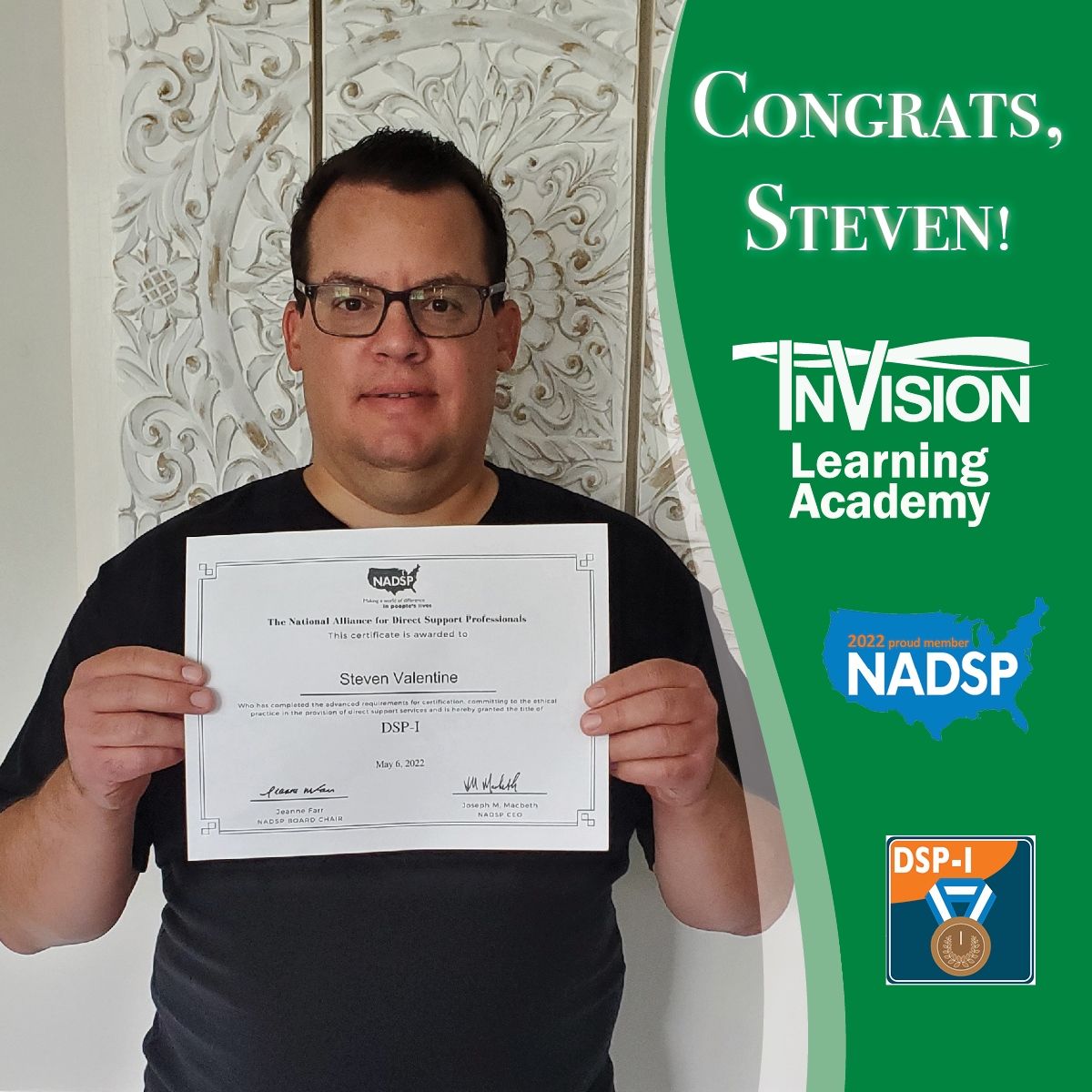 "I feel like I untapped my passion through this program," Steven Valentine, level three graduate, said upon completing the program. "InVision's helpfulness along the journey has helped me reach this point. Thank you for this great opportunity to be prouder of my work."
For more information, visit our
NADSP web page
, where we will track the progress of our goal and provide the option to submit any questions you may have.