When Ruth Siegfried founded InVision in 1992, she had a simple vision: Provide quality, person-centered support services to people with intellectual and developmental disabilities. Throughout her more than 30 years as InVision's Chief Executive Officer (CEO)—in addition to her role as President—she's shaped the organization into a respected disability services provider with a reputation as a conventions-challenging, industry innovator and a strong advocate for both the people it serves and the Direct Support Professionals it employs.
As an intellectual disability and autism (ID/A) industry trailblazer, Ruth leaves some big shoes to fill. But when she stepped down from her CEO role in late 2022 to focus more on her advocacy efforts in Harrisburg as founder and president, Kim Love was a natural fit to take the helm. Kim's more than two decades at InVision had her in multiple roles across the organization from behavioral and community supports to Signals and—most recently—Chief Operations Officer (COO).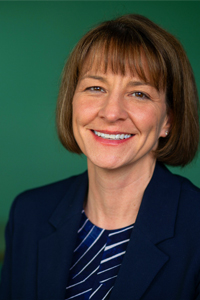 As CEO, Kim embarks on another new journey with InVision—one which she views as the greatest honor of her career. InVision's rich and storied history creates the perfect foundation for continued, thoughtful growth, and she's committed to leading us forward while strengthening the relationships at the heart of our successes.
Building a Stronger InVision
Challenging conventions and shattering the status quo are only some of InVision's most visible characteristics, but it's the relationships at the core of our organization that truly define us.
"This is true whether we're talking about the relationship between a DSP and a person they support, a supervisor and a DSP…the organization with our employees and family members of those we serve, or with other stakeholders," Kim said. Chiefly among her goals as CEO is to identify a tangible philosophy and culture from this critical, but subjective, concept.
"Staff must understand what it means to work at InVision—and what is expected of every person—as we work together to make InVision a place where high-quality supports are provided and employees honor inclusivity, collaboration, and responsibility to each other," Kim added.
While InVision DSPs and other staff have embraced our mission and core values with their support of the people we serve, how these concepts interweave into the organization as a whole has been far less transparent. And this, Kim says, is key to building a stronger, more resilient organization poised for strategic, "thoughtful" growth.
Renewing Our Outlook
The social services systems in place across the nation are in an increasingly dire situation.
Inadequate funding, misunderstandings about the industry, and low wages for those who work in it
are only some of the myriad reasons many people with disabilities seeking community-based services are unable to access them. Kim recognizes that there's incredible need in our industry that we can address, but it must be done carefully to avoid exceeding our current capacity to serve or jeopardizing our programs.
"While we seek to continue growing the organization and expand our services in the future, quality must remain at the core of this plan," Kim said.
Fortifying our position as a "reputable and valuable partner" to government officials is a key component of Kim's framework toward addressing the shortfalls in the industry that affect us all. Establishing and cultivating key relationships with legislators, lobbyists, and community members will rally the support we need to push for change and ultimately help us pursue bolder goals and achieve better outcomes for the people we serve.
"It's likely that the system will undergo a transformation within the next decade or two," Kim said, "and InVision will be at the table, participating in discussions with other providers; advocates and self-advocates; and government officials to create an ID/A system that is sustainable and focused on the things most important to the people we support."
On the home front, however, Kim's priorities for InVision include creating an organization-wide culture with a focus on improving compliance, quality, and employee engagement.
"InVision is a well-respected provider in the ID/A community, especially as it relates to providing residential support to people who…have significant behavioral needs or have experienced difficulty in finding [a] provider [that] successfully meet[s] their needs," Kim said.
"[But] [w]e can always do better," she added. "It doesn't matter what your position is [at InVision] … Our collective efforts as an organization ensure our success."
Engaging on All Levels
We know that strong, healthy relationships are at the heart of everything we do at InVision, but—as Kim mentioned—there's always room for improvement. Kim's enhanced engagement plan will not only work toward strengthening the relationships among our staff and the people we support, but also provide her and InVision's leadership team with crucial feedback about how we can progress as an organization.
Kim has already led several small, focused forums in her ongoing efforts to regularly communicate organizational priorities and status directly to staff. This is also designed to increase the leadership team's visibility among staff so that everyone feels supported and heard. Continuing to clarify roles and responsibilities at every level of the organization through updated policies and procedures remains an important aspect connected to relationship development.
Kim acknowledges that our work is difficult and often underappreciated by our communities, so part of her engagement strategy will focus on identifying more opportunities to recognize all staff, from DSPs to office-only employees, for everything they do for the people we serve at InVision.
Ruth once said, "Our employees are our greatest asset", and Kim is committed to upholding this sentiment in all of her decisions moving forward.
Forging Ahead
No one knows better than Kim the responsibility that comes with her new leadership role; however, she remains undaunted by the task. InVision's strong reputation as an organization that honors and respects the dignity and voice of everyone forms the foundation of an organization poised for a bright future:
"Together, we will capitalize and improve upon [this] foundation that's been built during the last 30 years to make us even stronger in the future."