In times of crisis and uncertainty, our eyes turn to the frontline heroes. We rally behind their courage, tenacity, and dedication to fulfilling their missions so people remain healthy and safe. We take comfort in their actions, knowing that they're doing all they can to give our neighbors, friends, and family the care and support they need.
As the rapid spread of coronavirus (COVID-19) continues to grip society—and the nation grapples with ways to slow the spread—we rely on our doctors, nurses, and other healthcare workers to continue showing up to care for those who are most affected. We laud those who sacrifice themselves for the greater good as the rest of us do our part by staying home and practicing social distancing to contain the illness.
While no one questions that these people deserve the praise and recognition they've earned, another group shows up on their own front line, just as ready to continue providing their critical care and support services as any other healthcare worker: Direct Support Professionals (DSPs).
DSPs Rise to the Challenge
Over the last several decades, people with intellectual disabilities and autism have been moving out of congregate care facilities and into community-based settings. As they navigate their daily lives, they rely on the essential services provided by DSPs and disability services providers—like InVision—to help them build fulfilling lives of their own determination.
Ruth Siegfried, InVision's Founder and President/CEO,
recently penned in an op-ed
with the Pittsburgh Post-Gazette: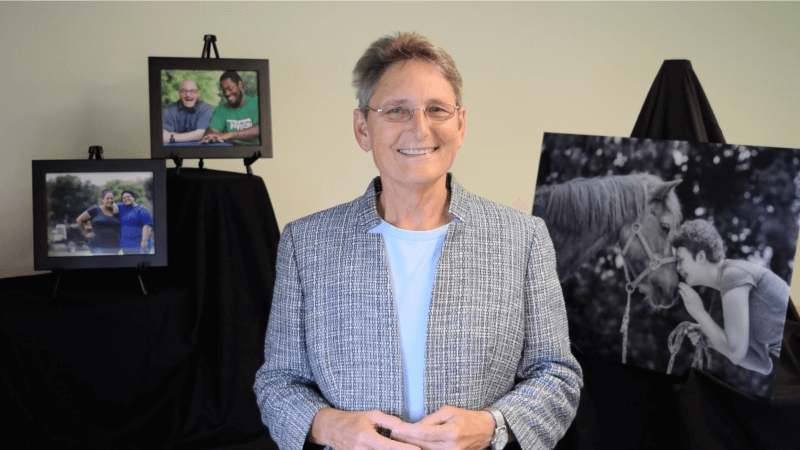 We [the United States] have built a community system that depends upon a large workforce of professionals to ensure that people with intellectual disabilities and autism continue to have much-needed caregivers, some requiring 24-hour-a-day, 7-day-a-week supports."
This group of professionals continues providing round-the-clock care even in the midst of a global pandemic, because they know the people they serve still need support. DSPs are much more than caregivers: they are friends, teachers, nurses, social workers, and companions. Their work is essential to the hundreds of thousands of people whose lives are positively impacted by the consistent and dedicated support of DSPs.
Despite a clear need from a vulnerable community, DSPs in many states aren't officially designated as "essential", like other healthcare providers and professionals. Not having this designation makes it more difficult for DSPs to travel to the homes of the people they support or obtain the equipment necessary to provide them the care they need. Though they share a similar mission and repertoire of duties, not being considered "essential" is detrimental to those who rely on DSPs for daily support.
Even as the majority of the nation shuts their doors and hunkers down at home, DSPs must continue providing their services. The people they support need them, and DSPs need the public and governments to understand just how essential their services are to people with disabilities.
An Old Problem, Reignited
Unfortunately, DSPs are used to being overlooked. The coronavirus pandemic is stoking the flames of an issue that's been plaguing the disability service provider industry for decades.
Providers have spent the last several years fighting for better working conditions for DSPs to earn them the benefits and recognition befitting those who do so much for people with disabilities. Wages are low and stagnant; turnover rates are disturbingly high; and critical positions remain vacant almost constantly.
As DSPs find creative ways to help the people they support cope with social distancing and care for them if they are sick, these industry-wide concerns are only magnified. Low wages still force DSPs from the jobs they love, even during a health crisis, and unfilled positions means people with disabilities go without their support services when they need them the most.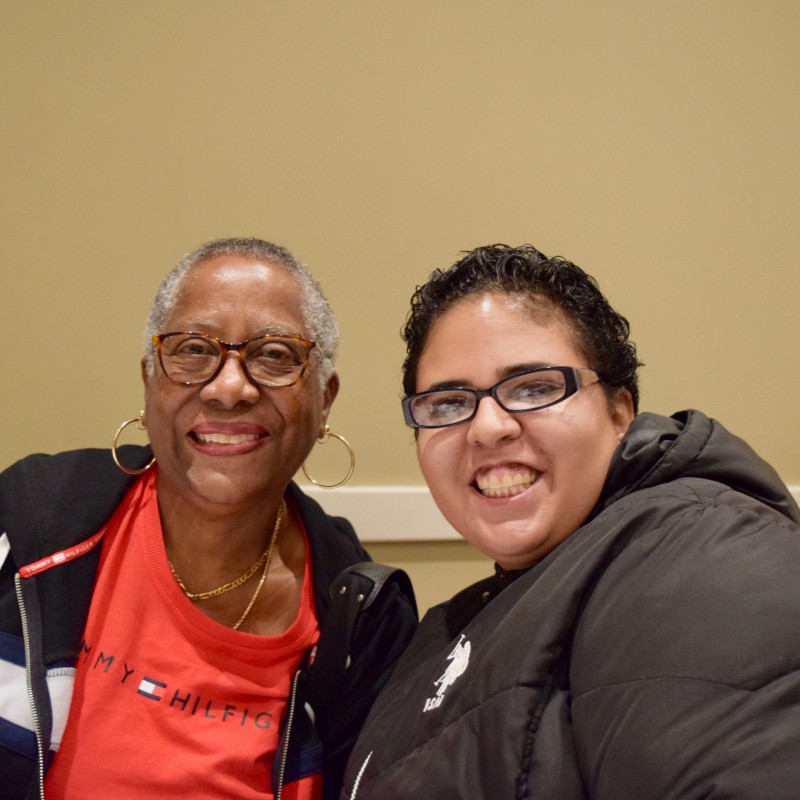 In recent years, many providers have begun building advocacy toolkits and programs designed to bring attention to the problems DSPs are facing in this industry which directly—and negatively—affect the services they provide for people with disabilities. Since most resources available for DSPs and people with disabilities are financed entirely through Medicaid, their advocacy messages focus on convincing state governments to issue adequate funding for their services. Additional funding would help providers pay higher wages; invest in training and retaining quality employees; and further outline a clear, progressive career path for DSPs. Compensating DSPs accordingly for the work they do, especially during a health crisis, is at the height of recent advocacy messages.
But it's more than just a lack of legislative action holding back change for disability service providers and DSPs, it's public perception too.
People generally perceive the work DSPs do as low-skilled and unworthy of respect despite its complicated, but necessary, nature. Through no fault of their own, DSPs struggle to shake these labels, making it especially difficult to sway the public opinion that indirectly influences the decisions made by elected officials.
These same misconceptions weave their way into emergency declarations, resulting in the exclusion of DSPs as "essential" workers who are performing a public good. Even if they work largely in the background, quietly supporting people with disabilities as they learn new skills and develop relationships to help them live fulfilling lives in their communities, DSPs are much like any other healthcare provider, and they need to be recognized for the essential services they provide every single day.
The (Unsung) Heroes Among Us
In a world of silver linings, the coronavirus pandemic is providing a unique opportunity for provider organizations to amplify their advocacy. Many are utilizing the hashtag "
DSPsAreEssential
" to draw attention to DSPs and the critical role they play in the well-being of people with disabilities: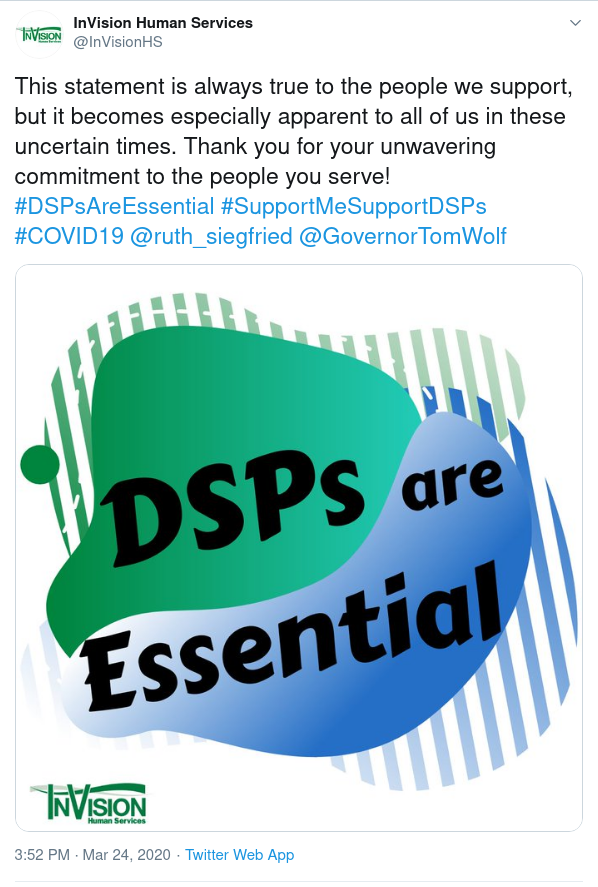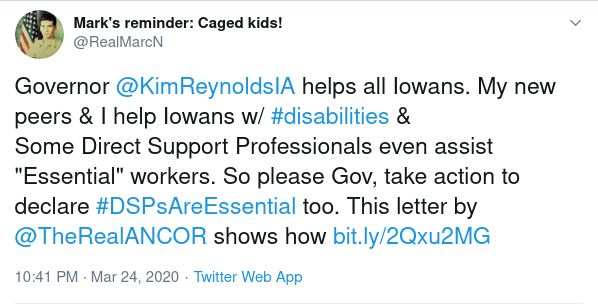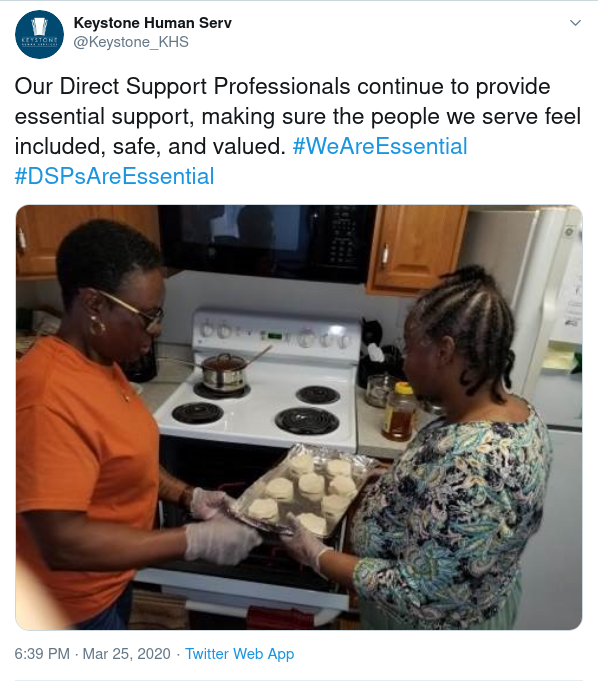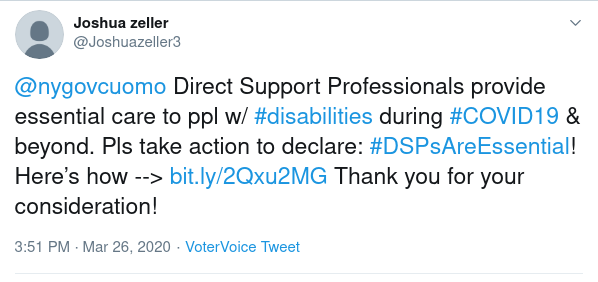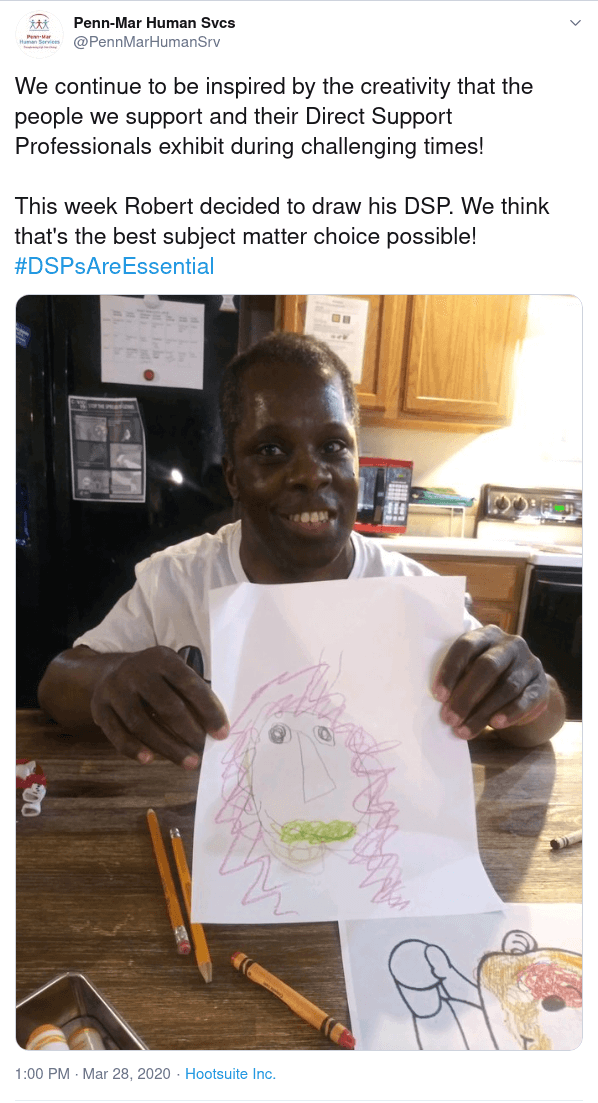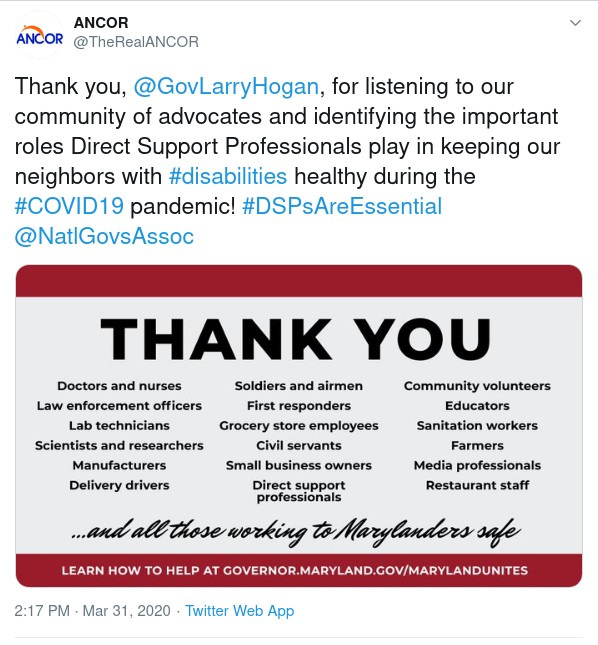 These coordinated actions from the public and disability service providers not only move us closer to a better future for DSPs and people with disabilities, but also help our leaders recognize that DSPs are important to people with disabilities and their continued success in our communities. Every voice matters.
"When we make it through this crisis, and we will with the support of [DSPs], may we find it in our hearts to remember their contributions to the safety of loved ones and treat them with the respect and dignity they so richly deserve," Ruth said in her op-ed, reminding us all of the sacrifices DSPs make to help support people with disabilities.
Even outside of these unprecedented times of crisis, DSPs will always rely on the powerful and passionate voices of advocates who want to see them recognized as essential to the lives of the people they serve.
Together, we can achieve the change this industry desperately needs.
Discover advocacy tools with InVision Human Services. Find additional resources with PAR and ANCOR.