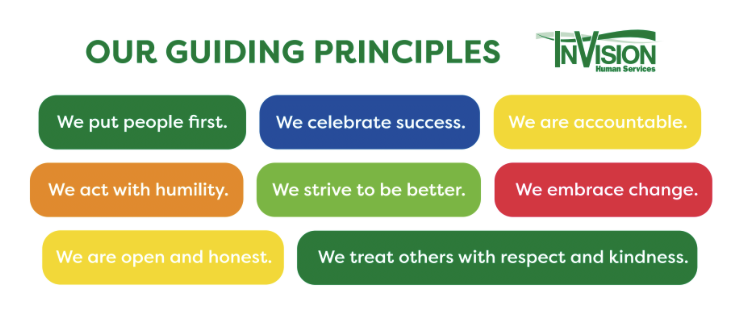 "I can accept failure; everyone fails at something. But I can't accept not trying." – Michael Jordan
Over the past year, I have seen InVision team members come together through some challenges and continue to strive for the overall mission to build person-driven services with people who experience disabilities in their pursuit of meaningful lives. There is no question about the passion each employee has for this mission and the people we serve. Our passion can be weighed down at times due to the many obstacles we must navigate through, but we always fall back to the mission to understand truly why we are here—the people we serve.
Through the changes in leadership, numerous licensing visits and staffing crises, we continue to persevere. There are many changes happening, and we can embrace a philosophy of continuous improvement. Being afraid to fail can be paralyzing, but we can continue to strive to be better at everything we do. Continuous improvement is a mindset that focuses on identifying, analyzing, and making incremental improvements for you and InVision.
Take Michael Jordan's story as an example. In high school, he had the opportunity to give up on his dreams due to his failure and embarrassment of not making the varsity team. Rather than giving up, he used it as motivation to be better and embraced a continuous improvement mindset. Through his college and professional basketball years, he expected each one of his teammates to embrace that same mindset. Well, history tells us the rest of his story, and the impact he had on his teammates.
There are many stories like Michael Jordan's. We can be one of those stories through our contributions to the success of the organization and exhibiting our "We Strive to Be Better" guiding principle:
"We are in constant pursuit of improving ourselves and the organization. When we've accomplished our goals, we ask, 'what's next?' and push ourselves to achieve even more."
I look forward to being part of this journey with each of you.