Governor Tom Wolf recently announced all counties in Pennsylvania are now in the green phase of his three-phase reopening plan. Some of the strictest mandates for mitigating the spread of the coronavirus (COVID-19)—like stay-at-home orders—have been lifted, but everyone must continue adhering to the
Pennsylvania Department of Health
and the
Centers for Disease Control and Prevention
's (CDC) guidelines for coronavirus safety.
Wear a mask
Mask-wearing is not only required in all public spaces by the commonwealth, but also it's
effective at reducing the spread of the coronavirus
.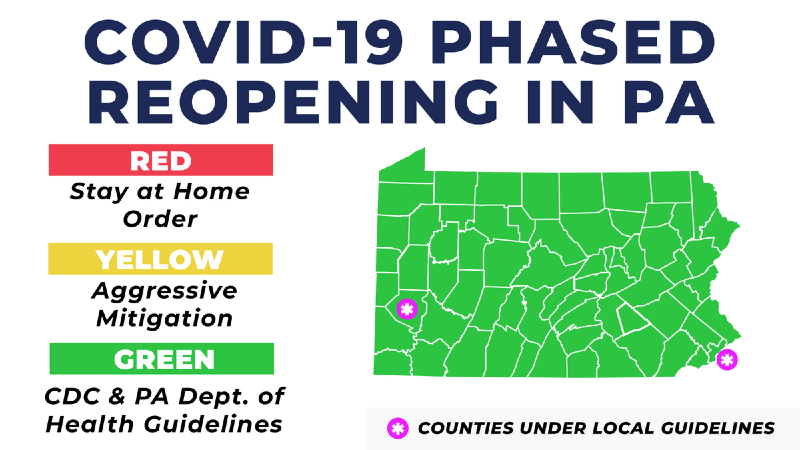 Masks are designed to protect others, so they're most effective when worn by the majority of the population. Utilize them when you're around anyone who doesn't live in your house or when you're in public. Bear in mind that they're not foolproof. If you suspect you have COVID-19,
self-quarantine at home
.
Continue social distancing
While warm weather and summer activities might tempt us into lowering our defenses, we must be mindful of how easily the virus spreads and to keep our distance from others, as appropriate. It's recommended that anyone in public spaces should maintain a distance of at least six feet between them and others.
Social distancing sits in a bit of a grey area in our line of work, so if you're a DSP, please continue to follow guidance from your supervisors or departmental leadership to evaluate social distancing with the person or people you support on a case-by-case basis.
Practice rigorous personal hygiene
It's well-documented the effectiveness of hand-washing at preventing infections, and this remains true for the coronavirus.
Wash your hands often
. Lather up and scrub your hands vigorously for at least 20 seconds (try singing the ABCs or the "Happy Birthday" tune twice in your head) with soap and hot water. If soap and water are unavailable, hand sanitizer will do in a pinch.
InVision offices remain closed
Until further notice, it's recommended that all office staff continue to work from home, as appropriate. Any staff entering either InVision office will be required to wear a face mask at all times (except in your personal work space or office), and meetings must be conducted via telephone or Microsoft Teams. Keep your distance when you can, and wash your hands frequently.
We are currently working on office reopening plans, and we will share the details once they're finalized. Until then, please continue to follow
our current guidance
.
Thank you to all of our staff for their commitment to InVision's mission, vision, and the people we support during these challenging times.
Banner image courtesy of Harryarts / Freepik.