Maybe it is owning your own home. A fulfilling career doing what you love. Going out on the weekends, gathering with friends, going for a walk, or simply relaxing.

At InVision Human Services, the power to make decisions is in the hands of the people we support. We provide the tools and environment needed to unlock the best pathway to their success, and we will stand with them every step of the way.
Since 1992, InVision has provided highly customized services to people with intellectual and developmental disabilities, and our person- and solutions-focused approach specializes in people who are experiencing significant life challenges. We believe in their inherent strength and potential to become successful members of their communities, and this drives us to do everything possible to help them live their best lives.

Their needs are unique; their support should be too.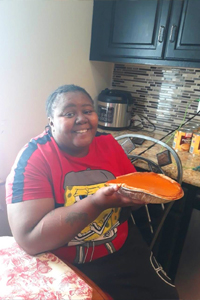 InVision embraces innovation through our customized support services. Designed specifically by and for the people we serve, they are founded upon listening, understanding, and establishing them and their family as the decision makers for their care. Teaming them up with our staff and their Direct Support Professionals (DSPs), we work together to uncover a support structure that provides a level of independence never thought possible.

When people are valued, heard, and respected, the heights they can reach are limitless.
We strongly believe all people should be treated with dignity and respect, and we demonstrate this daily from our business practices to our support philosophy for the people we serve. No matter their goals, we work tirelessly to ensure their supports are ready for them from day one to help them realize their vision of a meaningful, fulfilled life.