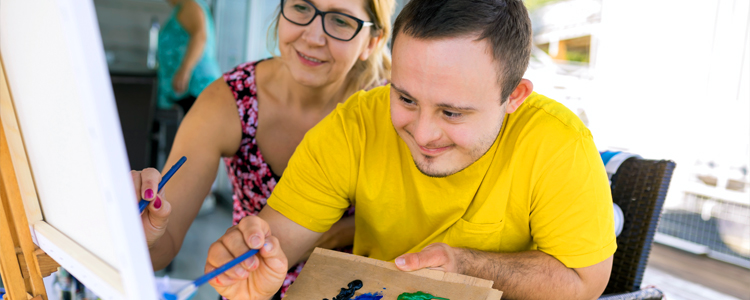 InVision Human Services recognizes the ongoing need for comprehensive services for individuals with intellectual and developmental disabilities (IDD). Since 2016, InVision Behavioral Health (IBH) has treated the whole person, both physically and mentally. Staffed with psychiatrists, social workers, and licensed nursing professionals, IBH provides individualized behavioral health services that meet the unique needs of our patients with IDD, maximizing their opportunities to live full, meaningful lives.
Behavioral health needs can be very specific and particularly challenging, especially among those with IDD. Abnormal behavior is sometimes caused by an underlying disease (physically or mentally) or co-occuring disorders that affect neurochemical balance within the human body. Treatment of the behavior focuses on addressing the underlying disease as it relates to behavioral health.
A collaborative care model is an important factor in the successful treatment of our patients. We engage them and their primary care providers within the behavioral health and primary care continuum to enhance preventative care, improve the effectiveness of chronic disease treatment, provide educational support, and ultimately improve the adherence to the cohesive treatment plan.
Additionally, behavioral health, like other areas of health care, has changed significantly because of the COVID-19 pandemic. We have created a behavioral telemedicine platform that provides advantages to patients who can access services from their homes with more options for safety, privacy, and adherence to their ongoing treatment plans.
If you or someone you know would like additional information about our services, please inquire at
behavioralhealth@invisionhs.org
or you may contact us by telephone at (724) 933-2961.