Congratulations to Amanda Robinson—a Vocational Specialist in InVision's Employment Supports program—for winning Job Coach of the Year at the 2022 PAR Solutions Conference. This award is part of PAR's "We Are Worth It." segment which "honor[s] outstanding Direct Support Professionals (DSPs) who have demonstrated extraordinary and innovative support and action that lead people with intellectual disability and/or autism to live meaningful and inclusive lives".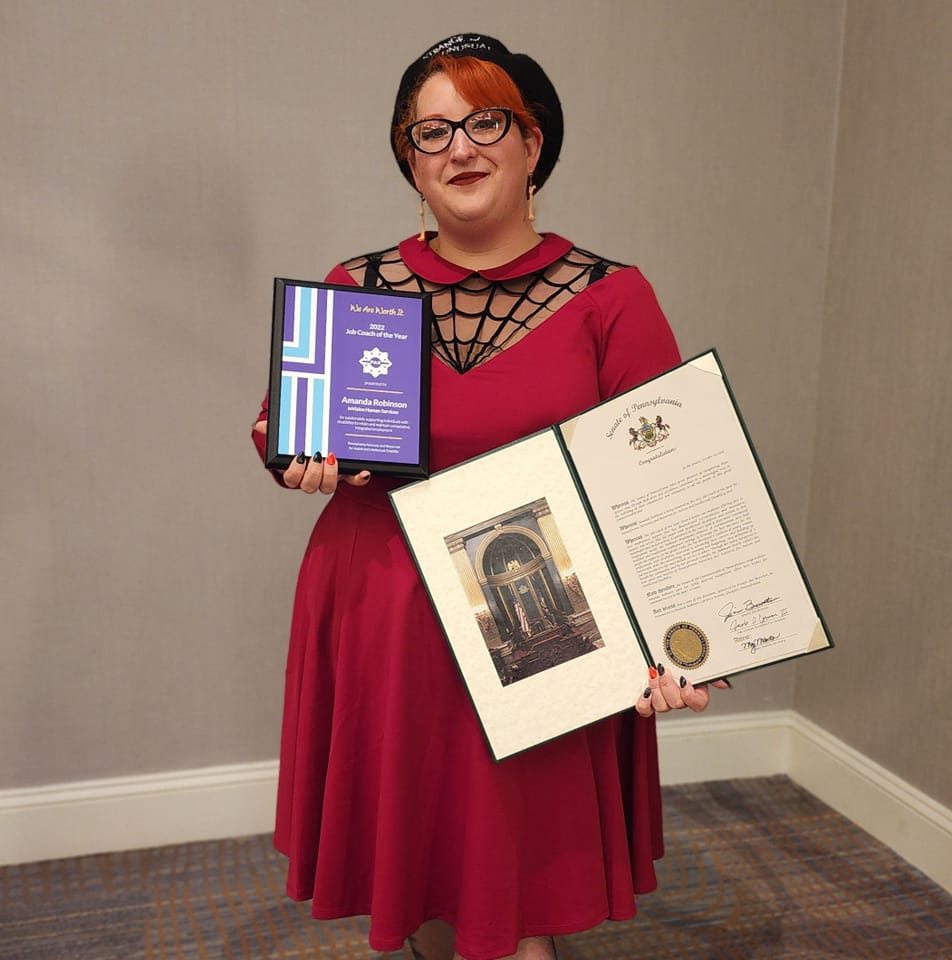 As a Vocational Specialist—or job coach—at InVision, Amanda supports people with intellectual and developmental disabilities in their pursuit of fulfilling employment. Guided by a strong person-centered philosophy, she engages with potential employers with the best interests of the people she supports in mind. She works hard to truly understand what each person needs to succeed in the workplace—while also remaining deeply focused on what they hope to gain from employment—by meticulously matching a person's strengths and interests to an employer's unmet needs.
Engaging, outgoing, creative, and compassionate, Amanda has earned a much-beloved reputation as a fierce advocate for the people she supports. Never one to back down from difficult conversations with families, employers, or other providers, she insists the voices of the people she supports are heard and honored without exception. She consistently promotes workplace safety, achieves stability, and documents all accommodations for every single person she serves.
Outside of her regular duties as a Vocational Specialist, Amanda has developed a coalition of young women professionals with disabilities interested in career advancement and building marketable skills like networking, event planning, and budgeting. She helps them strengthen their confidence and create new friendships and professional connections by attending career-focused conferences and conventions as a group.
Amanda's deep dedication and holistic approach toward helping the people she serves achieve their career goals has been instrumental to their success in multiple measures. She recognizes that employment is only one facet of our lives and focuses her support on helping the people she serves enjoy everything that life in their communities have to offer.
Congratulations, Amanda, on your outstanding accomplishment!

Banner image courtesy of PAR.