Mwango supposes Zul began talking about taking up the violin again sometime last summer.
"She started talking about how she used to play, and that she wished she had a violin so she could play again," Mwango, Zul's Direct Support Professional (DSP) said.
Zul started playing the violin as a child. She reminisced about accompanying her sister on the piano and playing for small audiences at their school and church. When she was around 11-years-old and had to leave her grandmother's home, her violin was sadly left behind.
Despite not having owned or played a violin for many years, Zul never forgot how playing the instrument made her feel. The pieces she remembered playing and the wistful memories of her past as a performer (and some nudging from Mwango, of course) moved her to put a violin on the top of her Christmas wish list.
InVision and our DSPs are deeply dedicated to fostering strong relationships with the people we serve so that they feel empowered to seek out new opportunities to explore their passions or discover new hobbies. Mwango understood how important the violin was to Zul and saw a chance to help her reclaim the past she longed for with a little help from an InVision community partner.
A New Journey Begins
Mwango submitted a violin as Zul's wish for Giving Tree, a holiday giving program organized by the Pittsburgh North Regional Chamber of Commerce (PNRC). InVision has participated in Giving Tree for several years, and the program enables community members to directly support our—and other nonprofits'—vision by purchasing gifts for the people we serve.
Zul received her gift just in time for Christmas, and inside the case she found not only a brand-new violin and bow, but also a business card. Since Giving Tree gifts are typically given anonymously, Zul was surprised to find the card with a written offer for two free violin lessons.
Zul hurriedly called the number listed on the card, excited to begin relearning the violin in earnest. Even the smallest gestures can have the biggest impacts—little did Zul realize that the phone call she made would put her on the pathway toward realizing her dream of performing once again.
A Gift of Purpose
Carolyn Keller—PNRC board member and founder of Curio412—was helping to organize the Giving Tree submissions when one particular gift caught her eye.
"[Violins] are expensive instruments," Carolyn said. "I just thought 'this may be one of the [gifts] left on the tree.'"
As a member of the PNRC outreach committee, Carolyn is dedicated to the success and expansion of the Giving Tree program. Since 2015, the PNRC has organized Giving Tree and supported many nonprofits in North Pittsburgh, collecting more than 500 gifts in 2021 alone.
"[Giving Tree] just really exploded this year," Carolyn explained. While she isn't certain, she believes the rapid expansion of the program is a combination of greater community need and heightened awareness.
"Our nonprofit membership has really expanded, and we're looking to grow those relationships," Carolyn said. The PNRC usually sees only six or seven nonprofits applying to participate in Giving Tree per year, but it wound up being 13 in 2021. "We were really blessed to have all gifts fulfilled," she added.
And that's partly thanks to Carolyn herself. She chose to purchase the violin not only because she feared its cost would be prohibitive to most potential donors, but also because she felt compelled to take her gift a step further. A violinist herself—and a former violin instructor—she believes anyone who seeks to play the violin, or any instrument, should have the opportunity to learn all they can.
"I know that playing [instruments] and music lessons can really touch peoples' lives," Carolyn said. "In my experience giving lessons…there were people who really wanted to learn but didn't know where to start."
So Carolyn decided to leave her business card in the violin case with instructions for the receiver to give her a call when they wanted to discuss lessons. Even if she couldn't commit to continuing them on a regular basis, she's well-connected with other violinists and instructors who could take the helm in her place.
Carolyn received a call from Zul sometime after Christmas. She could clearly hear the excitement in Zul's voice as they discussed Zul's prior experience with the violin and desire to begin lessons as soon as possible. Understanding that Zul is a woman with disabilities, Carolyn offered to meet her at home or in a place more comfortable for her.
Unexpectedly, Carolyn discovered Zul actually lived on the other side of Pennsylvania.
But instead of backing out of her offer for lessons, Carolyn got to work finding the best instructor for Zul closer to home.
Creating Connections
Carolyn called several of her contacts around Reading, Pennsylvania.
"I reached out to a violin professor friend of mine, and she recommended two teachers," Carolyn said. Unfortunately, neither instructor was able to provide lessons to Zul due to family circumstances, but—serendipitously—they both recommended Alyssa Lahoda, a private violin instructor in Reading. Conveniently, she also lived only a few blocks away from Zul.
"[Carolyn] gave me [Alyssa's] number, and I contacted her," Zul said.
Alyssa accepted Zul as a new student, and they began lessons in February.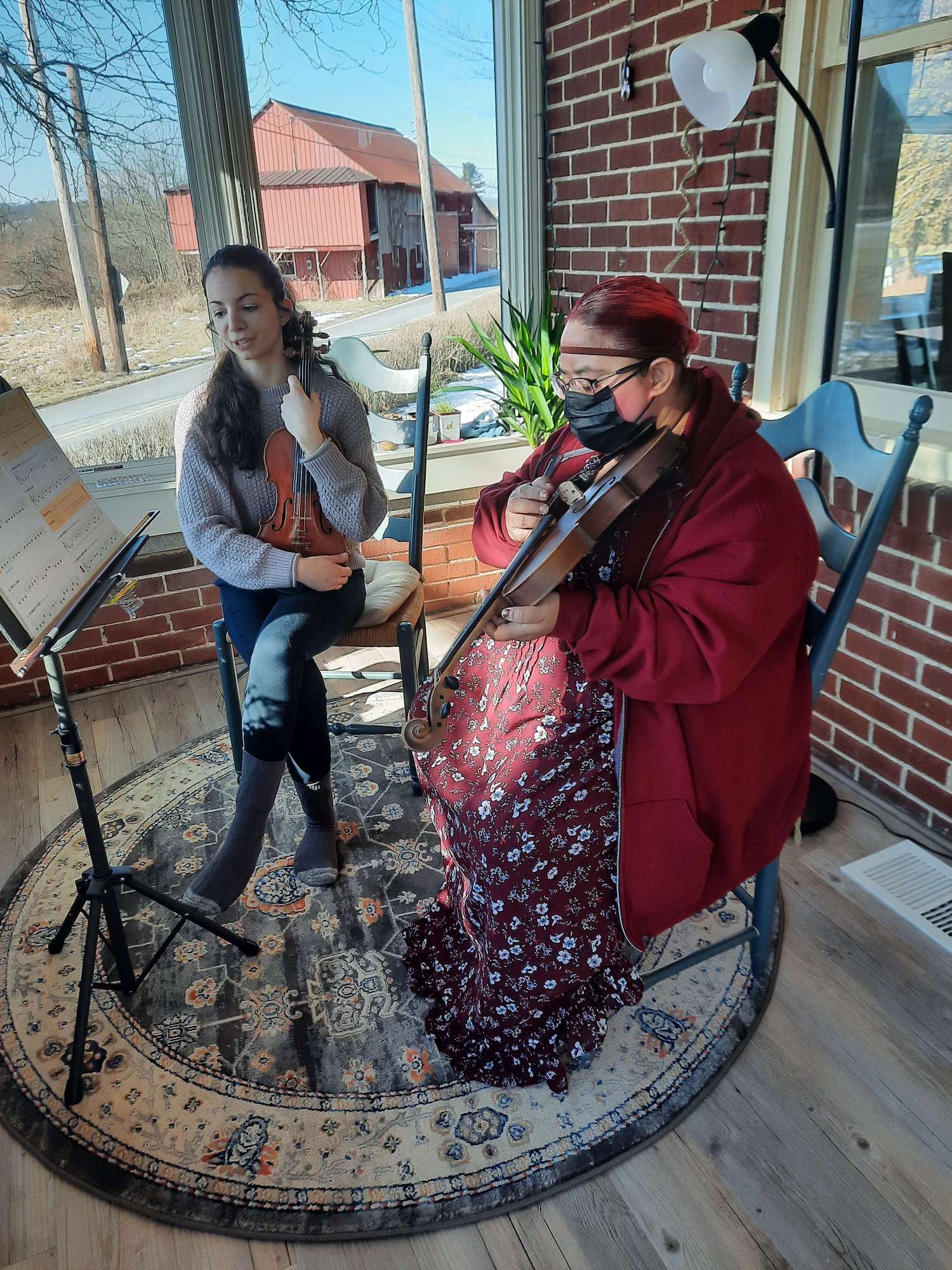 "When Carolyn contacted me about the situation, I couldn't say no," Alyssa said. "I hadn't heard about InVision or [a program like] Giving Tree, but I thought it was really cool that I could help reconnect [Zul] with music, and that there's something out there for adults to reconnect with their passions."
Importantly, Alyssa also had experience providing music lessons to people with disabilities, which was critical for Carolyn.
"I wanted to make sure that whoever would instruct [Zul] had a background to work with [people with disabilities]," Carolyn said.
"[Disabilities] don't inhibit [someone's] ability to learn the violin," Alyssa said. "Zul is very focused, and she comes to each lesson with lots of enthusiasm. I think she just wants to have fun with it," she added.
Like any of her other students, Alyssa is beginning with the basics: correct technique, reading music notes, violin maintenance, and fingerings for simple tunes.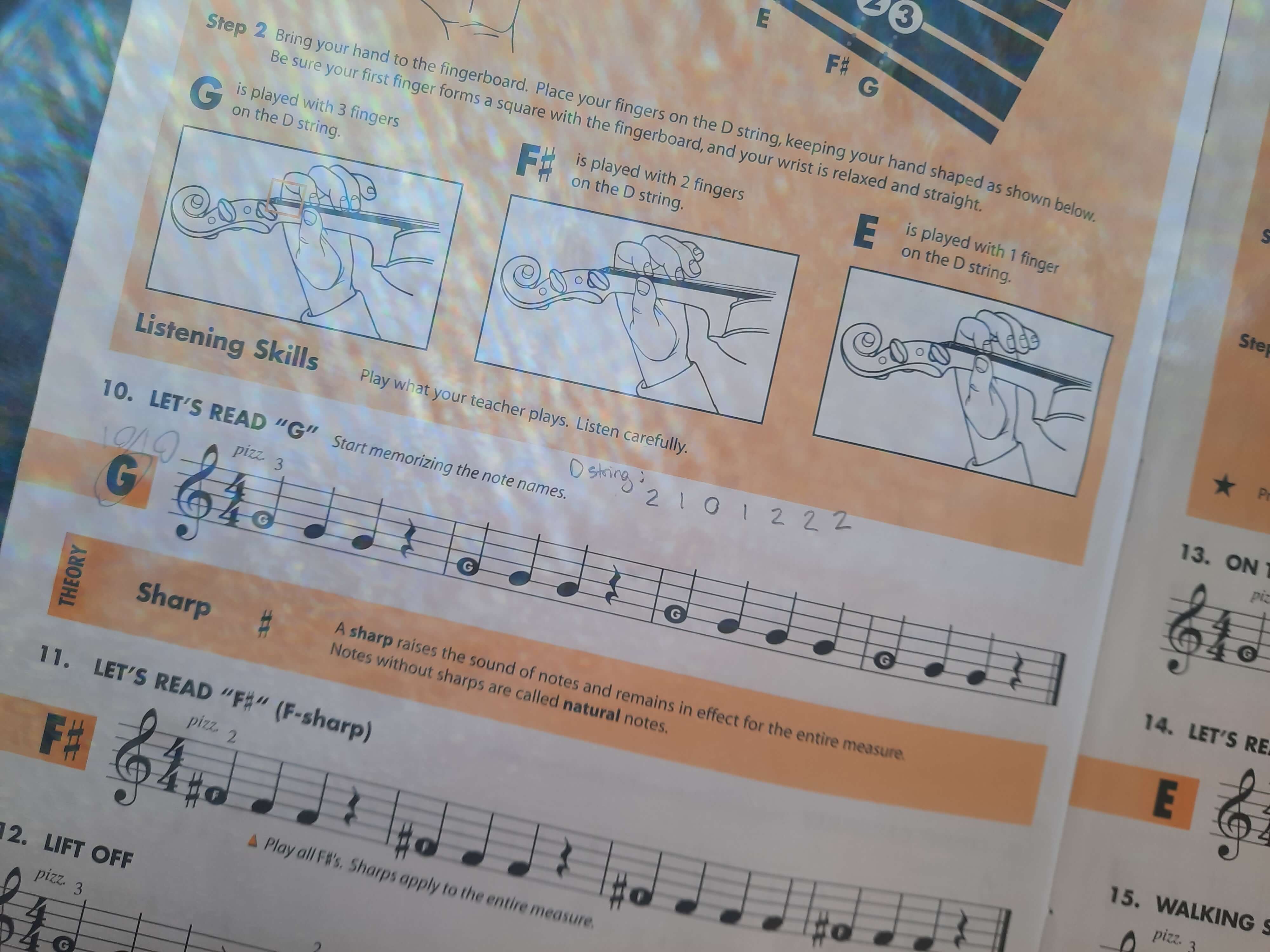 "Alyssa is really good at what she does," Zul said. "I admire her—she doesn't rush through things…and she makes me feel better about myself." Mwango added that Alyssa is "very gentle and patient" with Zul too.
For now, Zul is focused on continuing her weekly lessons with Alyssa and learning little by little.
"[The lessons are] everything I wanted and more," Zul explained. She's fully committed to achieving her dream of performing with her violin. "I wanna learn it all!"
The Power of Giving Tree
InVision develops its support services through an understanding of the importance and power of mutual relationships. It's through our partnership with the PNRC that Zul has been given this incredible opportunity to pursue her dream for the future.
Giving Tree not only helps connect people with the missions of nonprofits serving the communities of North Pittsburgh and beyond, but also it's the foundation for someone to create a tremendous impact on someone's life. Zul will always remember Carolyn's generosity and dedication, and the two will forever remain connected through their shared passion for the violin.
What greater gift could there be?
Learn more about InVision's mission and vision for people with disabilities.
The Pittsburgh North Regional Chamber, formerly known as THE CHAMBER of Commerce, Inc. was established on January 1, 2010 as a newly merged organization of the Cranberry Area Chamber of Commerce and Northern Allegheny County Chamber of Commerce. The Pittsburgh North Regional Chamber's (PNRC) membership consists of 1,100 businesses and organization who employ nearly 24,000 employees. The footprint of the Pittsburgh north Regional Chamber of Commerce covers three counties, Allegheny, Beaver, and Butler and 16 municipalities. Our membership ranges from sole proprietors to large corporations, nonprofit organizations and individuals who are interested in supporting our business community.