The importance of a strong foundation in fundamental leadership skills cannot be overstated; InVision's Emerging Leaders program offers new leaders an opportunity to further develop basic leadership skills and learn how to employ them among their teams and in their working environments.

Investing in Leadership
Emerging Leaders has held many forms throughout its lifetime at InVision, but when Erin Osborne—InVision's director of learning and development—joined InVision a few years ago, she saw an opportunity to build a powerful and effective leadership development program designed to guide new leaders in their roles at our organization.
"Investing in our up-and-coming leadership is in everyone's best interest," Erin said. "[A strong] leadership development program boosts morale, influences better decision making, builds better teams, and prepares our workforce for the future."
In an industry that seemingly has no clear-cut career development path, Emerging Leaders illuminates the way for our future leaders to begin walking forward with InVision.

Emerging Leaders
Emerging Leaders is a series of workshops intended for InVision's new leaders who have regular contact with and impact on our frontline Direct Support Professionals (DSPs). Throughout the program, participants receive helpful tools for navigating problems within their teams and learn helpful strategies for relationship development. Topics of discussion include communication; conflict and performance management; motivation; employment law; and team development.
"[As] part of a new … career development plan, recently promoted staff like Behavior Specialists, Residential Supervisors, Trainers, Schedulers, or ISP Specialists are automatically enrolled into Emerging Leaders at the time of their promotion," Erin said. Participation in the program helps new leaders not only navigate their higher-visibility role and changing expectations, but also employ the strategies they learn to build effective teams of people that provide the highest quality supports to the people we serve.
During the workshops, participants are encouraged to consider what they can do to motivate and engage their teams and how they can cultivate a respectful working environment for all team members. They learn how different communication styles can impact relationships and how to adapt these styles to best connect with their team members.
"[Our leaders] are representatives of [InVision]," Erin said, "… and the program reinforces [our] vision, mission, and values" so that leaders may lead by example.
Near the end of the program, participants are tasked with identifying and solving a team dynamic issue by working in small groups. These new leaders rely on the support from their peers and the skills and strategies they've learned along the way to complete the project.
"[Emerging Leaders] provides the tools [leaders] need to start managing in our ever-changing world," Erin said. "… [I]t still stands true that [participants] get out of the program what they put into it," she added. "We've seen many of our graduates continue to grow their career and become well-rounded leaders."
For now, Emerging Leaders is conducted virtually, but—like many of InVision's other training programs—plans for in-person learning remain underway.

Congratulating the Class of 2021
After nine, long months, InVision congratulates our most recent graduates of Emerging Leaders. On March 30, a virtual graduation ceremony was held in recognition of their accomplishments and in testament to the determination and commitment demonstrated by each participant.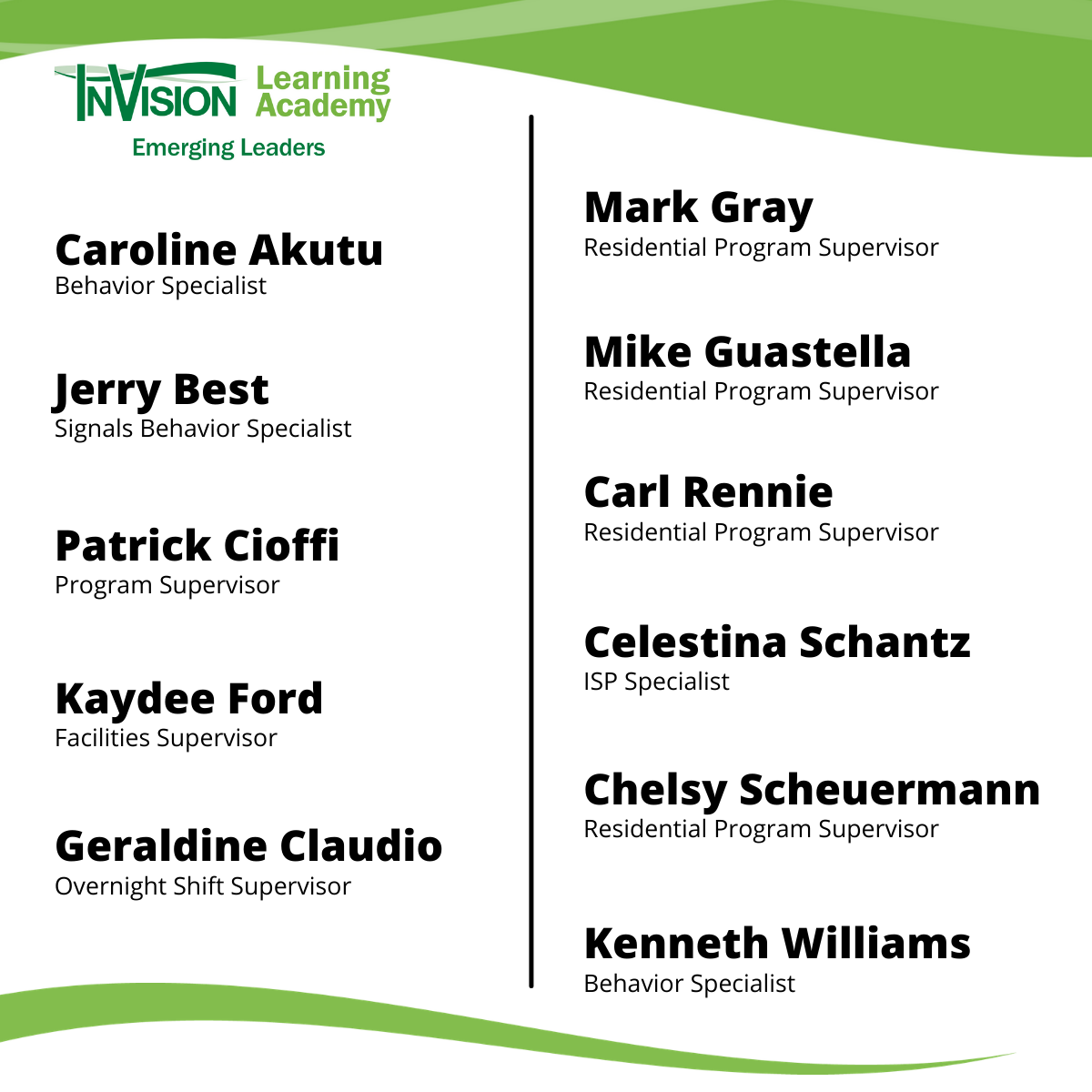 Thank you for all that you do for the people you lead and the people we support!

Leaders for Tomorrow
Lead /ˈlÄ"d/: to guide on a way; to direct on a course or direction
The people we serve rely on their teams for exceptional support services, and exceptional support services start with exceptional teams. Exceptional teams, though? They start with exceptional leaders.
InVision understands the value of strong leaders. We continue to utilize the feedback we receive to further optimize Emerging Leaders for future classes. We're ready to help many more budding leaders unleash their full potential.