For Direct Support Professionals (DSPs) who are passionate about the work they do for people with intellectual and developmental disabilities, career development pathways aren't always obvious.
InVision is working to change that.
By partnering with the National Alliance for Direct Support Professionals (NADSP), InVision Learning Academy is implementing a credentialing program that offers DSPs opportunities to gain additional expertise in areas related to their work that will not only improve the quality of support services they provide, but also adds value and developmental pathways to a profession that is often underappreciated and misunderstood.
Investing in Our DSPs
As the heart and soul of InVision, DSPs are the dedicated professionals who live out our mission and help us realize our vision each and every day. The support they provide for the people we serve is critical for their success, but many aspiring DSPs enter the field with little more than raw determination and a passion for helping others.
While these traits are valuable and desired, a lack of education and training in skillsets needed to succeed in the role can complicate their futures as budding DSPs.
"[The work DSPs do] is inclusive of diverse responsibilities and requires a broad range of skills," Erin Osborne, InVision's director of learning and development, said.
Since DSPs occupy so many different roles within their scope of work, it can be surprising how undervalued they are by our communities. The perception that the work DSPs do is low-skill or otherwise without challenges makes it difficult for provider organizations to secure the resources necessary to invest in strong workforce development programs.
InVision is committed to doing better.
We have always valued the experiences and perspectives each of our DSPs bring to the role, and we've resolved to continuously discover new ways to help them strengthen their skills and gain confidence in their abilities.
"[InVision has] chosen to invest in our DSPs to improve the quality of care and provide both knowledge growth and a path toward development," Erin said.
A Foundation for Success
Erin and her team use InVision Learning Academy to better prepare DSPs for the realities of the job and learn the skills they need to support the people they serve successfully.
"We provide a foundation of training for all DSPs to help equip them with the knowledge [they need to be] successful in supporting the people we serve today," Erin said. "To build on that foundation and continue offering new learning opportunities, InVision … implement[ed] a DSP certification process through the framework of NADSP."
NADSP
created their certification program
to "provide national recognition for the contributions and competence of [DSPs] who apply for and meet the certification standards".
In other words, NADSP's program offers DSPs an opportunity to expand their skills and knowledge and earn nationally recognized credentials which demonstrate their expertise in effective and ethical methods of providing support services to people with disabilities.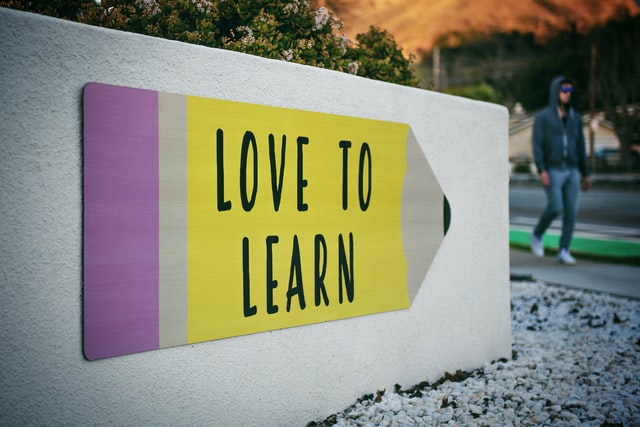 The DSP Certification program organizes content around the nine tenets of NADSP's code of ethics and structures the coursework into three levels. Each level has specific requirements for completion—from completing a credit hour minimum to writing essays—and the knowledge and skills applications become progressively more advanced as students move through them.
"The program [is] completed online and blended with practical application," Erin said. DSPs can expect to focus on concepts and skills associated with areas like crisis prevention and intervention; person-centered practices; health and wellness; communication; and safety.
"[The] program was way more in-depth than I thought it was going to be," DLJ Cromartie, an InVision residential counselor who has completed two of the three levels, said about his experience. "I thought it was going to be a lot of basic knowledge, [but] it goes way deeper and taught me so much. I can't wait to tackle level three," he added.
Because InVision offers the courses via Relias, our online learning management system, learners can complete the courses at their own pace.
"There's no pressure to hurry and finish [the courses within a specific timeframe]," Teresa Stevenson, an InVision residential counselor who has completed two of the three levels, said. "You can basically do it whenever you have downtime."
Credentialing offers DSPs more than just official recognition of their accomplishments—it positions them as highly skilled professionals who are demonstrably dedicated to providing the highest quality support services possible.
"[Our] goal is to improve the DSP profession while also focusing on the quality of care we deliver every day, [which] in turn [will] improve the lives of the people we support," Erin said.
Congratulating Our Newest Graduates
Following the commencement of the DSP Certification program at InVision in January 2021, seven DSPs have completed at least one level. Congratulations on your outstanding achievement!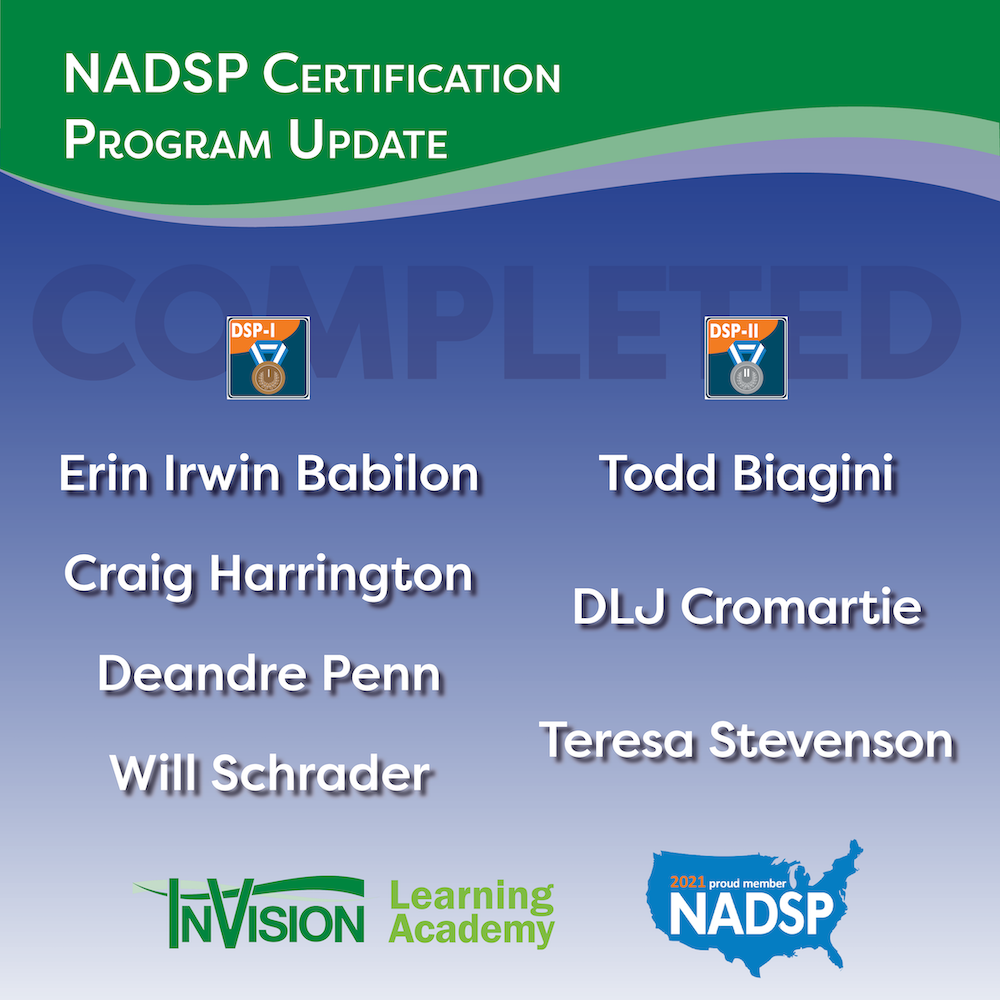 Thank you for all that you do for the people you support!
Building a Better Future
Investing in the growth of our DSPs is more than just a commitment to our workforce—InVision is working to challenge perceptions surrounding the role and empower DSPs to become life-long learners. After all, the greatest beneficiaries of highly trained and well-educated DSPs are, of course, the people we support.
"If you want to make this job your career, the information you get from [the DSP Certification program] will truly prepare you," DLJ said.
As further testament to the value added from certification, InVision is also including a permanent wage increase for each level completed by DSPs who enroll.
Any DSP interested in enrolling for the upcoming July session is encouraged to speak with their supervisor.